Sign In
Know Your Income Tax Liability for 2016-17
The Income Tax liability for the financial year 2016-17 has been worked out based on data submitted in 2015-16. There is no change in income tax slabs. The basic exemption remain at 2.5 lakhs. The income tax rebate is increased by Rs 3000. In the FY 2015-16, it was Rs 2000, now the tax rebate is Rs 5000, if the taxable income does not exceed 5 lakhs. It is hoped that this module will prove to be more useful for the tax payers Know more
Grant of Ad-hoc Bonus for 2014-15 Arrears
Govt. issues order regarding enhancement of the calculation ceiling for Grant of Ad-hoc bonus for the accounting year 2014-15. The ad-hoc bonus as already paid to the eligible Central Government employees for the accounting year 2014-15 @3500/- in terms of the above 0M dated 16.10.2015 and now bonus shall be re-worked out based on the calculation ceiling of monthly emoluments of Rs.7000 instead of Rs.3500. Click here to view the order
New Payroll Application Rolled Out
New payroll application has been rolled out conforming to 7th CPC recommendations and Notifications. All registered employees can view their new pay fixation statement, pay arrear statements and new payslip in the system.
Award of Commendation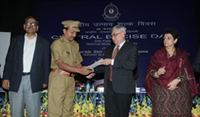 Shri. Sasikumar T., Inspector of Central Excise, Trivandrum, receives Commendation Certificate from Shri Parthasarathi Shome, Adviser to the Union Finance Minister, at the "Central Excise Day Celebration", in New Delhi on February 25, 2013 for development of online payroll application as service to the Dept at free of cost. The Revenue Secretary, Shri Sumit Bose and the CBEC Chairperson, Smt. Praveen Mahajan are also seen.